Dance & Fundraiser Night – ¡Fiesta Cubana!
International Days of Action Against the U.S. Blockade on Cuba!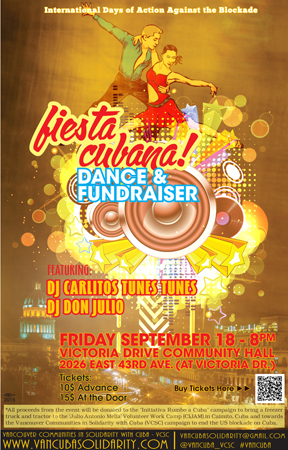 FRIDAY September 18
8pm
Victoria Drive Community Hall*
2026 East 43rd Ave (at Victoria Dr.), Vancouver
Delicious food, drinks, live music, a salsa dance lesson, two DJs & lots of dancing!
FEATURING:
>> DJ CARLITOS TUNES TUNES – from El Salvador
>> DJ DON JULIO – from Guatemala
>> EL TRABADOR BETO FUENTES – Live Latin American Guitar Performance
>> FOOD – Delicious Latin American and Middle Eastern cuisine!
>> DRINKS – Famous Cuban drinks- Mojitos, Cuba Libres…and more!
>> RAFFLE – Win Cuban prizes and take home a reminder Cuba!
Tickets $10 in advance or $15 at the door!
BUY YOUR $10 ADVANCE TICKETS HERE:
https://www.eventbrite.ca/e/fiesta-cubana-dance-fundraiser-4-cuba-tickets-18487695194
>> All proceeds from the event will be donated to the "Initiativa Rumbo a Cuba" campaign to bring a freezer truck and tractor to the 'Julio Antonio Mella' Volunteer Work Camp (CIJAM) in Caimito, Cuba and towards the Vancouver Communities in Solidarity with Cuba (VCSC) campaign to end the US blockade on Cuba <<
*The party will take place in the lower hall which is wheelchair accessible
Join the event on facebook: https://www.facebook.com/events/1047689135249507/
See the event poster: http://www.vancubasolidarity.com/posters/150918-VCSC-dance-party.pdf
Organized by: Vancouver Communities in Solidarity with Cuba (VCSC)
http://www.vancubasolidarity.com