ABOUT US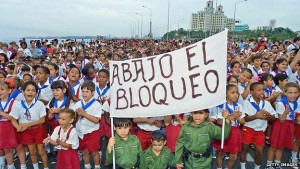 On Friday September 4, 2015 at the Annual General Meeting of the Free the Cuban 5 Committee – Vancouver, we unanimously passed motions to change our name and basis of unity to reflect the December 17, 2014 historic victory of the freedom of all 5 of our Cuban Heroes.
At this meeting our committee re-committed itself to the important struggle to end the cruel and inhuman US blockade against Cuba under our new name: Friends of Cuba Against the U.S. Blockade – Vancouver (FCAB-Vancouver).
Friends of Cuba Against the US Blockade – Vancouver organizes to build a peaceful, consistent, coordinated and creative campaign, taking into account our experiences in the historic campaign to free the Cuban 5 Heroes!
Venceremos!
End the Blockade on Cuba Now!
Return Guantanamo to Cuba Now!
US Government Stop the Campaign of 'Regime Change' in Cuba and Immediately Stop Interfering in Cuba's Sovereignty and Self-determination!
_____
FRIENDS OF CUBA AGAINST THE U.S. BLOCKADE (FCAB-VANCOUVER)
(Member of the Canadian Network on Cuba-CNC)
Email: NoBloqueoVancouver@gmail.com | 604-719-6947
Twitter: @NoBloqueoVan
Facebook: https://www.facebook.com/NoBloqueoVan