Lift The U.S. Blockade on Cuba Now! Return Guantanamo to Cuba Now!
MONTHLY PICKET ACTIONS TO END THE U.S. BLOCKADE ON CUBA!
VANCOUVER, MONTREAL & OTTAWA, CANADA & KIEV, UKRAINE
Lift the U.S. Blockade on Cuba Now!
U.S. Return Guantanamo to Cuba Now!
>> In Vancouver, Montreal and Ottawa, Canada & Kiev, Ukraine
The U.S. is escalating its hostile and aggressive campaign against Cuba. Most recently the Trump administration has threatened to reinforce their illegal blockade against Cuba and is considering including Cuba on its list of state sponsors of terrorism. Furthermore the U.S. continues its fictitious media show claiming U.S. diplomats on the island have been victims of "sonic attacks". Despite a lack of evidence, Canada made similar unproven claims and reduced its embassy staff in Havana. In addition to these recent developments and ongoing media campaign against Cuba, the U.S. continues its illegal occupation of the territory of Guantánamo Bay.
As people around the world we will continue standing with the people of Cuba in defending their sovereignty and against all hostilities and aggressions by the U.S. government. Vancouver activists together with friends of Cuba in Ottawa and Montreal, Canada, and Kiev, Ukraine will unite our voices to demand an end to the unjust U.S. blockade against Cuba.
> TRUMP HANDS OFF CUBA!
> END THE U.S. BLOCKADE ON CUBA NOW!
> RETURN GUANTANAMO TO CUBA NOW!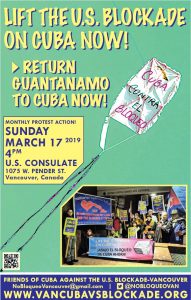 This event will be taking place on the traditional and unceded territories of the Tsleil-Waututh (səl̓ilwətaɁɬ), the Musqueam (xʷməθkʷəy̓əm), and the Squamish (Skwxwú7mesh) Coast Salish Nations.
Organized in Vancouver by:
FRIENDS OF CUBA AGAINST THE U.S. BLOCKADE (FCAB-VANCOUVER)
(Member of the Canadian Network on Cuba-CNC)
Web: http://vancubavsblockade.org/
Email: NoBloqueoVancouver@gmail.com
Phone: 778-707-8027
Twitter: @NoBloqueoVan
Facebook: https://www.facebook.com/NoBloqueoVan
Endorsed by:
VANCOUVER COMMUNITIES IN SOLIDARITY WITH CUBA (VCSC)
(Member of the Canadian Network on Cuba-CNC)