CELEBRATE THE FREEDOM OF THE CUBAN 5 HEROES! LIFT THE U.S. BLOCKADE ON CUBA NOW!
#NoMasBloqueo #UnblockCuba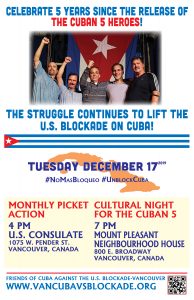 On December 17th, 2014 ALL of the Cuban 5 Heroes returned victoriously to Cuba! Ramón Labañino, Antonio Guerrero, and Gerardo Hernández joined Fernando González and René González and were finally reunited with their families and the people of Cuba, after spending over 16 years held unjustly in U.S. prisons for defending Cuba against U.S.-backed terrorism. The return of all of the Cuban 5 to Cuba continues to be a historic victory for human rights and for people around the world who have united to organize and win their freedom!
The struggle continues to stand with the Cuban people to demand an end to the cruel United States blockade and aggression against their country. November 7, 2019 marked the annual debate and vote in the United Nations General Assembly (UNGA) against the unjust U.S. blockade on Cuba. However, as the U.S. government continues to tighten the blockade – the world stood with Cuba for the 28th consecutive year. The resolution passed with 187 countries voting with Cuba against the blockade, and only 3 countries shamefully voting for the blockade (the U.S., Israel and Brazil).
However, the world's condemnation of the blockade is not only seen at the UN. Every year around the world groups and individuals continue to mobilize with petitioning, posting on social media, chanting & singing, rallying, and protesting around the united demand, "¡Cuba Si! ¡Bloqueo No!" "Yes to Cuba! No to the blockade!"
Join Friends of Cuba Against the U.S. Blockade in Vancouver on December 17 for our monthly picket action against the U.S. blockade and a cultural night to celebrate the freedom of the Cuban 5 Heroes! The celebration will include live music, poetry & multimedia!