April 8, 2022 – Come Hear About The Unique Ways Cuba is Combatting Climate Change!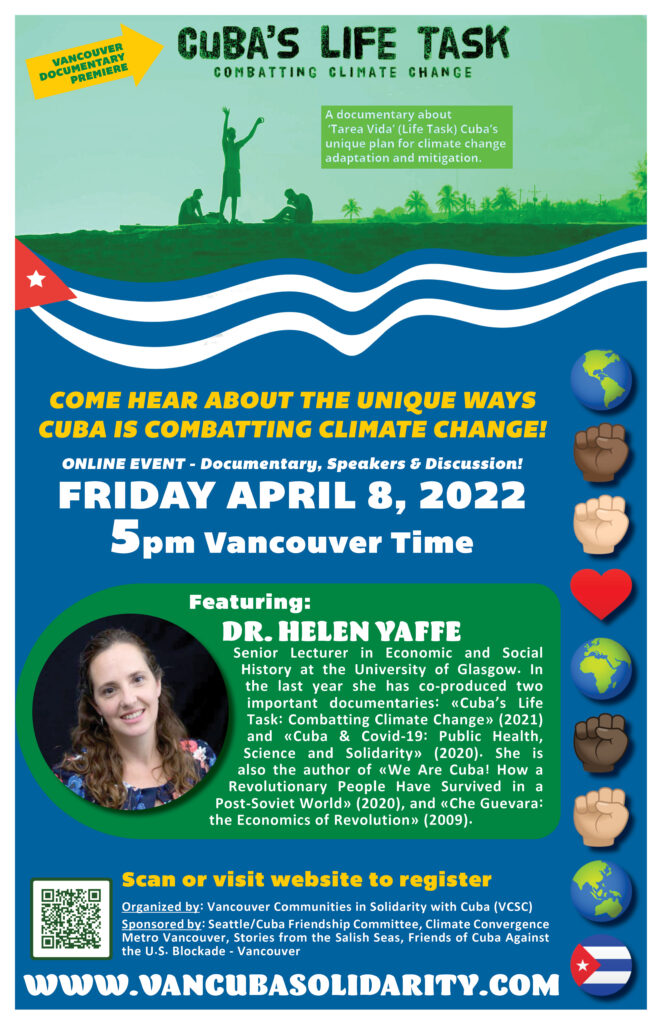 Vancouver Documentary Premiere!
Come hear about the unique ways Cuba is Combatting Climate Change!
ONLINE EVENT
Documentary, Speakers & Discussion!
FRIDAY April 8
5pm Pacific Time/8pm Eastern Time
Register for Zoom!
Featuring a discussion with:
DR HELEN YAFFE – a Senior Lecturer in Economic and Social History at the University of Glasgow and a Visiting Fellow at the Latin America and Caribbean Centre at the London School of Economics. Since 1995 she has spent time living and researching in Cuba and participating in solidarity campaigns.
Helen has co-produced two documentaries: Cuba & Covid-19: Public Health, Science and Solidarity (2020) and Cuba's Life Task: Combatting Climate Change (2021) . She is the author of Youth Activism and Solidarity: The Non-Stop Picket against Apartheid (2017), We Are Cuba! How a Revolutionary People Have Survived in a Post-Soviet World (Yale Press, 2020), and Che Guevara: the Economics of Revolution (2009).
This event is part of a virtual tour with events across the United States and in Vancouver Canada. For more information on other events visit, CLICK HERE!
Vancouver event organized by:
Vancouver Communities in Solidarity with Cuba (VCSC)
Sponsored by:
Seattle/Cuba Friendship Committee, Climate Convergence Metro Vancouver, Stories from the Salish Seas, Friends of Cuba Against the U.S. Blockade – Vancouver