Love & Unity – Solidarity with Cuba Continues in Vancouver
"Patria es Humanidad!" – "Humanity is my Homeland!"…
Those of you who have had the opportunity to travel to Cuba may recognise this phrase, painted in giant letters on a building at the airport in Havana, often the first sight to greet you as you arrive on the Island. A phrase with even more meaning and significance to Cuba as the size of the letters it is painted in, these very words were spoken by Cuba's national hero Jose Marti.
Jose Marti was a 19th century poet, a journalist and a revolutionary who fought for Cuban Independence. His words and his ideas still guide and influence the Cuban people and their revolution today. That's why, on Friday February 12th Vancouver Communities in Solidarity with Cuba (VCSC) invited folks in Vancouver to join them for a cultural evening of film, music and poetry at Joe's Café on Commercial Drive, to share and find out more about this historic figure.
The evening got off to a wonderful start with a live musical performance from MX Katracho, bringing vibrant Ranchera music from the soul of Latin America. Some of the powerful poetry written by Jose Marti was also shared by Cuba solidarity and social justice activists, Macarena Cataldo, Shakeel Lochan, Azza Rojbi and Tamara Hansen. Tamara Hansen, coordinator of VCSC and MC for the evening shared some more writings and stories about Jose Marti and his life long struggle for justice. After this opening, the Cuban/Spanish film "Jose Marti: Eye of the Canary" a biopic that imagines the early years of his childhood and youth, allowed the audience a glimpse of how this young man became such an important and revolutionary fighter in the struggle for a better world.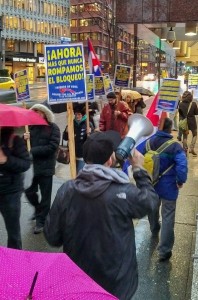 Of course, as it was approaching Valentine's Day, the event would not have been complete without the handcrafted card making session for the one(s) we love and the little heart shaped candies that dressed each table. In my mind, there was not a better way to mark that particular holiday than this Cuban cultural film night that brought so much love and solidarity to a rainy Vancouver evening.
End the Blockade of Cuba
Now, Jose Marti was also famous for saying that actions, not words, were the dignity of greatness.
This leads me to my next report because just a few days later on February 17th peace loving people in Vancouver took their words and poems from Joe's Café out onto the streets of Downtown Vancouver for the 6th monthly protest in front of the US Consulate to demand an end to the US Blockade on Cuba, and the return of Guantanamo Bay to Cuba Now! This monthly picket action is organized by Friends of Cuba Against the Blockade – Vancouver (FCAB) and endorsed by Vancouver Communities in Solidarity with Cuba (VCSC).
Dozens of people marched along the sidewalk in front of the US consulate with Cuban flags and colourful picket signs demanding an immediate and full end to the cruel and inhumane US blockade of Cuba, not excepting the extremely slow and partial changes the US government is currently carrying out.
And they were not alone. Part of the protests program featured a phone call with words of solidarity from activists and members of Ottawa Cuba Connections, who also organize a picket every month on the same day outside the US Embassy in Ottawa! The picket action was wrapped up by FCAB organizers Azza Rojbi and Alison Bodine who encouraged everyone to join them next month, same place same time, to continue fighting together, and with people all over the world, until the blockade on Cuba is lifted once and for all!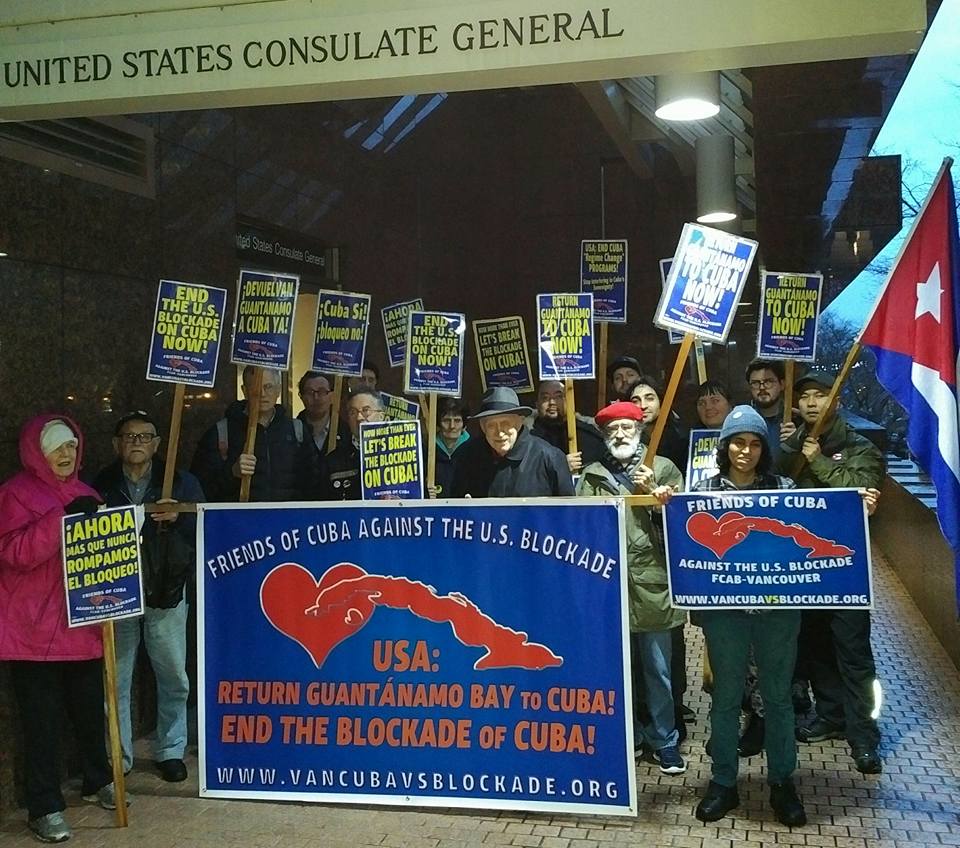 Please join Friends of Cuba Against the Blockade – Vancouver at their next monthly picket action on Thursday March 17th at 4pm at the US Consulate in Downtown Vancouver.
To find out more about Friends of Cuba Against the Blockade – Vancouver please visit: www.vancubavsblockade.org
Reprinted from the Fire This Time Newspaper: www.firethistime.net