Cuban 5 Hero Gerardo Hernandez in Nanaimo BC!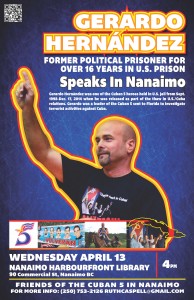 GERARDO HERNÁNDEZ
Former Political Prisoner for 16 Years in U.S. Jails
SPEAKS IN NANAIMO!

WEDNESDAY, APRIL 13
Nanaimo Harbourfront Library
90 Commercial St.
Nanaimo, BC Canada
4:00pm
We are proud to welcome Gerardo Hernández, one of the Cuban 5 Heroes formerly held in U.S. prisons to NANAIMO!
Join us Wednesday April 13, 2016 as Gerardo Hernández speaks, along with Javier Domokos, the Cuban Consul General of Toronto at the Nanaimo Harbourfront Library at 4pm.
Event organized by Friends of the Cuban 5 in Nanaimo, BC
For further information please contact: 250-753-2126 or ruthcaspell@gmail.com