On December 17, 2014, US President Obama made a historic announcement, that "the United States of America is changing its relationship with the people of Cuba." A year and a half later, are Cuba solidarity groups done protesting the blockade? Not at all! While there are more exceptions and an easing of some restrictions, the US trade and travel blockade on Cuba is still in place. The US is still occupying the Cuban territory of Guantanamo Bay, and the US government still funds and directs covert regime change programs in Cuba.
For over 50 years Cuba and supporters around the world have been demanding an end to the blockade. Finally, we are seeing progress! In July 2015 Cuba and the US opened embassies once again in each others countries. In March 2016 Obama and a large US delegation visited Cuba. Now that positive moves are happening, public pressure is necessary to keep this progress moving forward. Increasing that pressure on is exactly what Cuba solidarity activists in Seattle, US and Vancouver, Canada are working together to do.
Seattle Stands with Cuba!
On June 11th, 2016 the US Women and Cuba Collaboration organized a public event in Seattle, Washington with special Cuban guest Isel Calzadilla Acosta. Isel is a Cuban activist and founder of "Las Isabelas" in association with Cuba's National Center for the Education of Sex (CENESEX). This event was a great chance for both people in the US and Cuba solidarity activists who drove down from Vancouver, Canada to join in hearing first-hand about the great gains Cuba is making for LGBT+ (Lesbian, Gay Bisexual, Trans) rights. There were many questions from the audience and a very fruitful exchange between participants and Isel.
It is definitely important to pressure the US government to lift the blockade from here in Canada. But Canada's Cuba solidarity must extend across the border to the US, which is the front lines of the Cuba solidarity movement. Exchange and cooperation between US and Canadian Cuba solidarity organizations is how we can unite forces for a stronger show of support for Cuba. That strength of solidarity was felt at the Seattle event with activists from Vancouver and Seattle sharing aspirations to end the blockade and a deep love for Cuba!
Vancouver Pickets for Cuba!
On June 17, 2016 the Friends of Cuba Against the US Blockade – Vancouver (FCAB-Van) held their monthly picket action in front of the US Consulate in Vancouver, demanding that the US lift the blockade on Cuba and return Guantanamo Bay to Cuba. The pickets happen on the 17th of every month, marking the day of Obama's historic announcement and will continue until the blockade is fully lifted! Local activists spoke between rounds of picketing and chanting, as well as a phone message of solidarity was shared from Ottawa Cuba Connections, who hold coordinated pickets at the US embassy in Ottawa.
Cuba's Legacy Lives On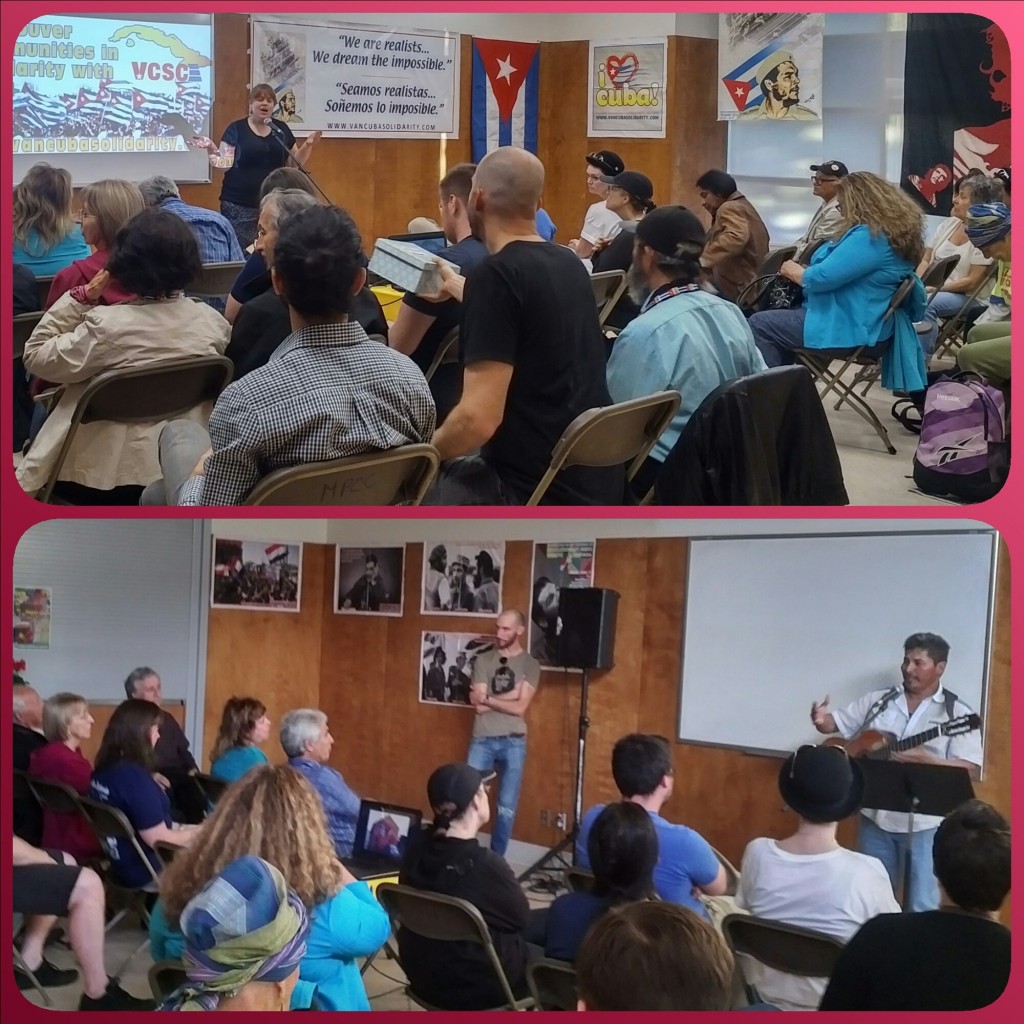 Following the June 17th picket against the US blockade, that evening Cuba supporters gathered for an event celebrating Che Guevara's 88th birthday. The event, organized by Vancouver Communities in Solidarity with Cuba (VCSC), honored the life and legacy of this revolutionary hero. Participants sang along to live music from MX Katracho, watched a film about Che Guevara, and even got to play a game of trivia to test their knowledge of Che Guevara's life!
Out On the Streets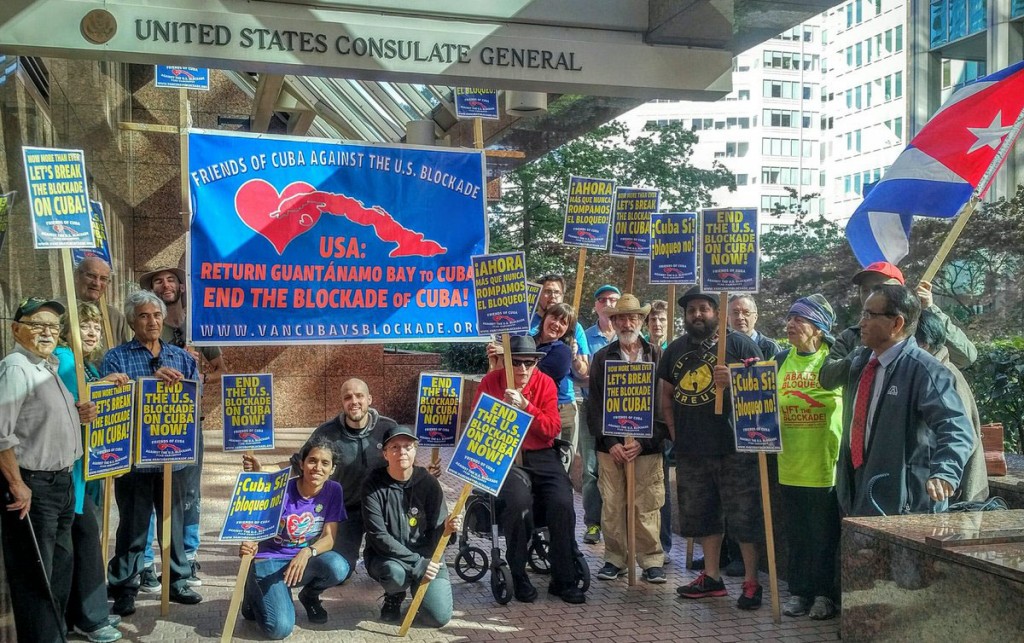 On June 19th Vancouver Communities in Solidarity with Cuba and Friends of Cuba Against the US Blockade – Vancouver spent the day at the Car Free Festival, on Vancouver's Commercial Drive and Main Street. Activists at the Cuba solidarity information tables welcomed people who were especially curious to know more about the current state of US-Cuba relations. When passerby's found out that the US blockade on Cuba is in fact still in effect, they were eager to sign the petition demanding that the US end it's blockade on Cuba.
Join in the Cuba Solidarity Movement!
There are many events and actions like these which you can join in to learn more about Cuba and protest the US blockade! Check out www.vancubasolidarity.com and www.vancubavsblockade.org, find us on facebook, or on twitter @VanCuba_VCSC and @NoBloqueoVan
Reprinted from Fire This Time Newspaper: firethistime.net