Hey Trump, Hands Off Cuba!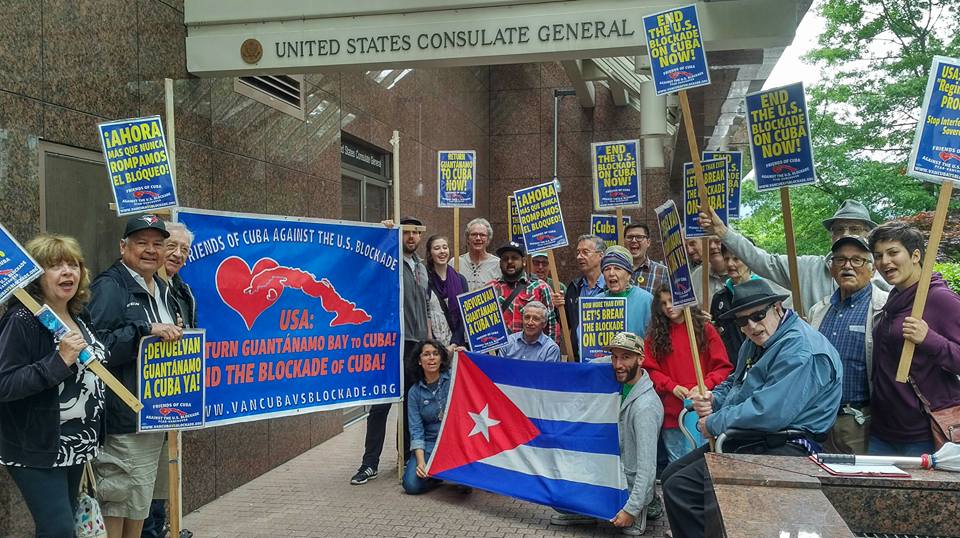 Hey Trump, Hands Off Cuba!
Lift the Blockade on Cuba Now!
Joint Statement by Vancouver Communities in Solidarity with Cuba and Friends of Cuba Against the U.S. Blockade – Vancouver
June 16, 2017
Today U.S. President Donald Trump added his own pitiful chapter to the U.S government's book on its cruel and illegal policy of regime change against Cuba. Surrounded by a small group of right-wing extremist Cuban -Americans, he tried to reverse most of the recent gains made by Cuba towards the normalization of Cuba/U.S. relations under the Obama administration. VCSC and FCAB stand together with millions around the world to denounce this outrageous and criminal act. We reaffirm our solidarity with Cuba, and our commitment to defend Cuba's sovereignty and self-determination against U.S. attacks.
While Trump was unable to completely break diplomatic relations with Cuba, he did re-impose travel restrictions on U.S. citizens and prohibitions on financial transactions by American companies with Cuban companies – with the ridiculous justification of cutting off support for the Cuban armed forces and intelligence services.
Let us reiterate how isolated the U.S. is internationally regarding its over 50 year old blockade on Cuba. In 2016, the United Nations General Assembly voted for the 25th consecutive year to condemn the U.S blockade. 191 of the UN's 193 members voted against the blockade, the U.S. and Israel were even forced to abstain from the vote!
Despite some progress made towards the normalization of relations, the criminal and unjust US blockade has remained almost unchanged. In fact, since December 17, 2014 the U.S. government has fined dozen of companies for a total of over $2.8 billion for doing business with Cuba.
On June 17 we will once again gather for a monthly protest picket action in front of the U.S Consulate in Vancouver. We are joined by Ottawa, Toronto and Montreal in this initiative, as well as cities around the world. We will continue this campaign until the U.S. lifts the blockade on Cuba, returns Guantanamo Bay and ends its regime change programs against the island!
We leave the final words to the statement issued today by the Cuban Ministry of Foreign Affairs. We have full confidence in their truth, and will continue to defend Cuba wholeheartedly:
"Any strategy aimed at changing the political, economic and social system in Cuba, whether it seeks to achieve it through pressure and impositions, or using more subtle methods, will be doomed to failure.
As we have done since the triumph of the 1st of January 1959, we will assume any risk and will continue to be firm and secure in the construction of an independent, socialist, democratic, prosperous and sustainable nation."
Hey Trump, Hands Off Cuba!
Lift the Blockade on Cuba Now!
Viva Cuba!