Lift the U.S. Blockade on Cuba Now!
MONTHLY PICKET ACTIONS TO END THE U.S. BLOCKADE ON CUBA!
VANCOUVER, MONTREAL & OTTAWA, CANADA & KIEV, UKRAINE
Lift the U.S. Blockade on Cuba Now!
U.S. Return Guantanamo to Cuba Now!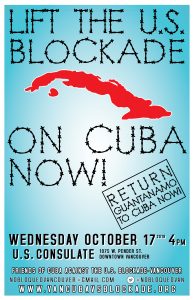 On August 24, Cuba released its yearly report to the United Nations General Assembly on the impacts of the U.S. blockade against Cuba. The report detailed the effects on Cuba's economy of the cruel U.S. blockade: "The economic, commercial and financial blockade imposed by the United States against Cuba constitutes the principal obstacle for the development of all the potentials for the Cuban economy…In the period considered by this report [April 2017-March 2018], the blockade has caused losses to Cuba for around $ 4,321,200,000."
In addition to the unjust blockade, the United States government continues its illegal occupation of the territory of Guantánamo Bay, Cuba as well as further hostile and aggressive policies against Cuba. As friends of Cuba around the world, we stand along with the Cuban people to demand an end to U.S. aggression and attacks on Cuba. From Vancouver, Ottawa and Montreal, Canada and Kiev, Ukraine we will unite our voices demanding an end to the U.S. blockade on Cuba and the full normalization of U.S. – Cuba relations!
> TRUMP HANDS OFF CUBA!
> END THE U.S. BLOCKADE ON CUBA NOW!
> RETURN GUANTANAMO TO CUBA NOW!
> U.S. GOVERNMENT STOP THE CAMPAIGN OF 'REGIME CHANGE' IN CUBA AND IMMEDIATELY STOP INTERFERING IN CUBA'S SOVEREIGNTY AND SELF-DETERMINATION!
Wednesday October 17, 2018 @4PM
U.S. consulate
1075 w. Pender St.
downtown Vancouver
This event will be taking place on the traditional and unceded territories of the Tsleil-Waututh (səl̓ilwətaɁɬ), the Musqueam (xʷməθkʷəy̓əm), and the Squamish (Skwxwú7mesh) Coast Salish Nations.
Organized in Vancouver by:
FRIENDS OF CUBA AGAINST THE U.S. BLOCKADE (FCAB-VANCOUVER)
(Member of the Canadian Network on Cuba-CNC)
Web: http://vancubavsblockade.org/
Email: NoBloqueoVancouver@gmail.com
Phone: 604-719-6947
Twitter: @NoBloqueoVan
Facebook: https://www.facebook.com/NoBloqueoVan
Endorsed by:
VANCOUVER COMMUNITIES IN SOLIDARITY WITH CUBA (VCSC)
(Member of the Canadian Network on Cuba-CNC)