Lift The U.S. Blockade on Cuba Now!
MONTHLY PICKET ACTIONS TO END THE U.S. BLOCKADE ON CUBA!
VANCOUVER, MONTREAL & OTTAWA, CANADA & KIEV, UKRAINE
Lift the U.S. Blockade on Cuba Now!
U.S. Return Guantanamo to Cuba Now!
On October 31, 2018, the United Nations will vote on a resolution against the U.S. blockade on Cuba for the 25th consecutive year. Each year, the UN overwhelmingly condemns this inhuman and criminal policy. In 2017, in the United Nations General Assembly, 191 countries voted against the blockade of Cuba. Only two – the United States and Israel, voted in favour.
As the Cuban President Miguel Díaz-Canel Bermúdez said during his speech at the 73rd Session of the UN General Assembly: "It [the U.S. blockade] has been and continues to be a major obstacle to the country's development and to the realization of the aspirations to progress and well-being of several generations of Cubans."
Vancouver activists together with friends of Cuba in Ottawa and Montreal, Canada, New York, U.S., and Kiev, Ukraine we join the cuban people to unite our voices in protesting the U.S. unjust blockade against Cuba and the illegal U.S. occupation of the territory of Guantánamo Bay. We demand an end to all U.S. hostilities and aggressive policies against Cuba

.
> TRUMP HANDS OFF CUBA!
> END THE U.S. BLOCKADE ON CUBA NOW!
> RETURN GUANTANAMO TO CUBA NOW!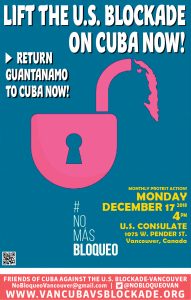 This event will be taking place on the traditional and unceded territories of the Tsleil-Waututh (səl̓ilwətaɁɬ), the Musqueam (xʷməθkʷəy̓əm), and the Squamish (Skwxwú7mesh) Coast Salish Nations.
Organized in Vancouver by:
FRIENDS OF CUBA AGAINST THE U.S. BLOCKADE (FCAB-VANCOUVER)
(Member of the Canadian Network on Cuba-CNC)
Web: http://vancubavsblockade.org/
Email: NoBloqueoVancouver@gmail.com
Phone: 778-707-8027
Twitter: @NoBloqueoVan
Facebook: https://www.facebook.com/NoBloqueoVan
Endorsed by:
VANCOUVER COMMUNITIES IN SOLIDARITY WITH CUBA (VCSC)
(Member of the Canadian Network on Cuba-CNC)