12th CNC Monthly Virtual Picket Against the U.S. Blockade on Cuba!
>> LIFT THE U.S. BLOCKADE ON CUBA!
>> U.S. REMOVE CUBA FROM THE SO-CALLED "STATE SPONSORS OF TERRORISM" LIST!
>> AWARD CUBA'S INTERNATIONAL MEDICAL BRIGADE THE NOBEL PRIZE!
#Cubavsbloqueo #UnBlockCuba #SanctionsKill
#Nobel4CubanDoctors #NobelCuba
Canadian Network on Cuba (CNC)
Online Virtual Picket Action!
~ Participate in English, French or Spanish! ~
~ Participez en anglais, français ou espagnol! ~
~ ¡Participa en inglés, francés o español! ~
>> 12th Monthly Virtual Picket
SATURDAY APRIL 17, 2021
4pm Pacific Time / 7pm Eastern Time / 8pm Atlantic Time
Register online at:
https://zoom.us/webinar/register/WN_ZZ_td6IwQuefkt9sfyCeVw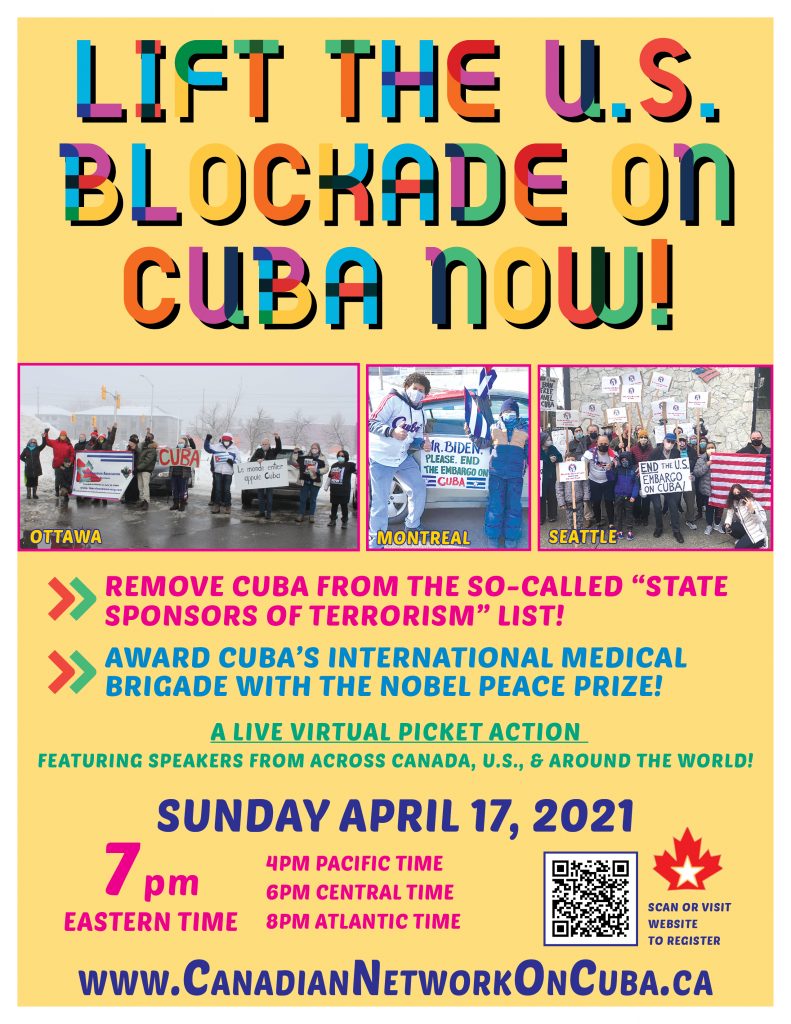 >>> Featuring Speakers & Greetings from Across Canada and Around the World including:
* DAVID DENNY – President of the Cuban Barbadian Friendship Association, General Secretary of the Caribbean Movement for Peace and Integration and the General Secretary for the Friends of Venezuela Solidarity Committee (Barbados). In 2016 he received the Award of Friendship from the Government of Cuba.
* YHONNY GARCIA – Leader of the Venezuelan National Movement of Friendship and Mutual Solidarity Venezuela-Cuba (Caracas, Venezuela)
* CHERYL LABASH – Co-chair of the National Network on Cuba (NNOC), United States
* JULIO FONSECA – Executive member of the Canadian Network on Cuba, President of the Juan Gualberto Gomez Association of Cuban Residents in Toronto.
* PLUS VIDEOS FROM: Australia-Cuba Friendship Society, Ottawa Cuba Connections & la Table de concertation et de solidarité Québec – Cuba and more!
* Along with Greetings from CNC member groups!
>>> Event Co-Chairs:
* TAMARA HANSEN – Executive member of the Canadian Network on Cuba, Coordinator of Vancouver Communities in Solidarity with Cuba (VCSC) & Author of "5 Decades of the Cuban Revolution: The Challenges of an Unwavering Leadership."
* ISAAC SANEY – National Spokesperson & Co-Chair of the Canadian Network on Cuba, Professor at Dalhousie University
*** Everyone is encouraged to make protest signs, display banners, or wear t-shirts against the blockade. These can be displayed in a group photo at the end of the virtual picket!
1) The program will begin with invited speakers and greetings.
2) In concluding the virtual picket, those who wish to participate in the photo will be invited by the co-chairs to turn on their cameras to join in! More specific instructions will be given by co-chairs during the virtual picket.
3) If you are unfamiliar with Zoom or require technical support, please contact: webmaster@canadiannetworkoncuba.ca
*** Everyone is also encouraged to share photos with their signs, t-shirts and banners on social media #Cubavsbloqueo #UnBlockCuba2021 #SanctionsKill
It is clear that pressure on the Biden administration to end the U.S. blockade on Cuba is growing.
In January the office of the UN Secretary-General, Antonio Guterres, expressed his disagreement with the US State Department including Cuba on its list of State sponsors of terrorism and expressed his hope that the Biden Administration would consider rescinding the listing. As well, in February, 17 major religious institutions and faith-based organizations recently co-signed a letter to President Biden urging an end to the U.S. blockade on Cuba and the normalization of U.S.-Cuba relations.
According to U.S. congressperson Bobby Rush, on March 2, a group of 75 Democratic members of congress sent a letter "to President Biden urging him to take swift executive action to reverse the Trump Administration's draconian policies towards Cuba, return to the diplomatic path charted by the Obama–Biden Administration, and pursue an ultimate end to the nearly six-decade-long economic embargo."
Then on March 28, 50 cities in the U.S., Canada, Cuba and around the world came together in united actions in the form of car caravans against the U.S. Blockade on Cuba! These dynamic actions are set to continue on the last Sunday of every month.
It is clear that now is the time to redouble our efforts to end the U.S. blockade on Cuba in 2021. Join the Canadian Network on Cuba for our 12th monthly virtual picket action as we hear from international speakers and plan for further actions and events!
REGISTER ONLINE HERE:
https://zoom.us/webinar/register/WN_ZZ_td6IwQuefkt9sfyCeVw
JOIN THE EVENT ON FACEBOOK:
https://www.facebook.com/events/163860998939083
** Please circulate this information to your friends and contacts. **
Organized by the Canadian Network on Cuba (CNC), a network of Cuba solidarity organizations across Canada promoting friendship and solidarity with Cuba and the Cuban people.
http://www.canadiannetworkoncuba.ca