September 19 – The Literacy Project and HotHouse present "A is for Angicos" FILM PREMIERE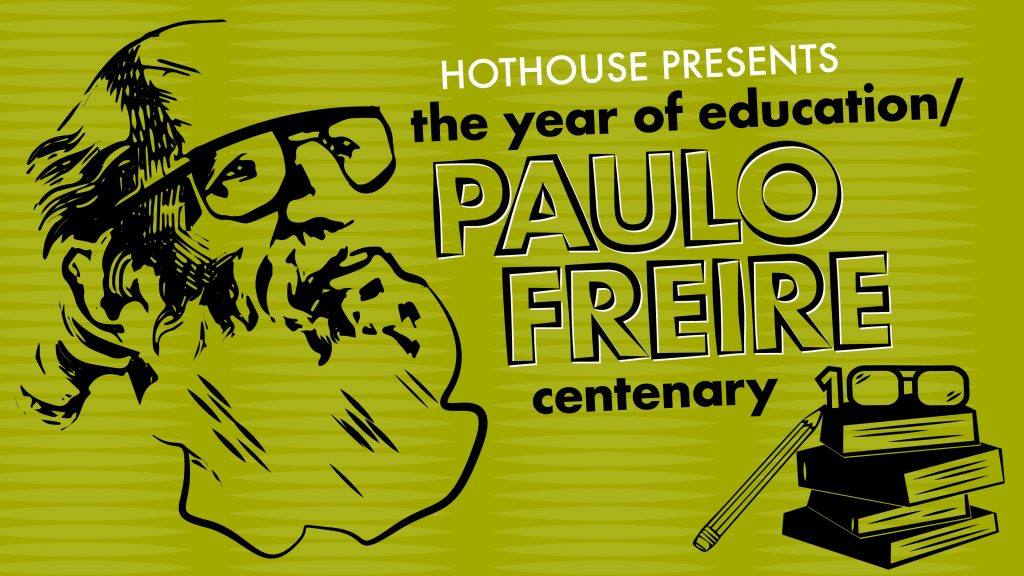 Liberatory thinker, radical educator, emancipatory philosopher and pedagogue, we open our series with a reflection in three parts of the life and legacy of Brazilian Paulo Friere and his mark on the world.
FILM PREMIERE !
5PM
"A is for Angicos" 28 mins. 2021 Directed by Catherine Murphy
In the early 1960s, Paulo Freire led an experimental adult education program known as "Culture Circles" in Northeastern Brazil. The Culture Circles mobilized students from the University of Recife to teach adult literacy and concientization in several cities in the region. One of these was the small city of Angicos in the arid sertão of Rio Grande do Norte, where they planned to teach reading and writing in only 40 hours. Produced by The Literacy Project in to honor the Freire Centenary, the creative team drew on pre-existing footage from into a 100% archive film, using footage collected from six filmmakers, two TV stations, and three universities. Through conversations with those filmmakers, institutions and a couple of the protagonists, the result is a 28-minute film documentary film that explores the experience of Angicos and it's legacy for Brazil in the world today.
"The World Is Not, It is Being" 18 mins excerpted from 52min film directed by Cristiano Burlan.
Episode 5 of a Five Part Series
The program explores formative ideas in Paulo Freire's philosophy and his perceptions about how people interact with one another. In this episode the focus is on the theater and culture and its influence on the creation of Cia do Brick, which expresses its primordial concepts through playwrights. The singer and composer Chico César focuses on the teachings of the pedagogue since he was a boy, even made music for him.
Conversants
Mirtes Zwierzynski, Iris de Olivera, Rita Sacay and Catherine Murphy
CATHERINE MURPHY is a DC-based filmmaker who has spent much of her life living & working in Latin America. She is founder & director of The Literacy Project, a multi-media documentary project on literacy in the Americas. As an independent producer, Murphy's work has largely focused on social documentaries. After a decade of producing films for other documentary makers, she finished her debut film MAESTRA in 2012, which has enjoyed robust distribution since it first launched, and has been translated into several languages
MIRTES ZWIERZYNSKI
Brazilian visual artist , muralist Mirtes Zwierzynski had immigrated to the USA , Chicago in 1980. Since then she has been involved in Public Art , numerous mural projects with Chicago Public Art Group and others Arts Organization.Those murals ,painting and mosaic , were done always in collaboration with the community. Besides that, she continues to develop her art work studio, most recently participating in The Community Window Project, Chicago public Art Group.
IRIS DE OLIVERA
Brazilian filmmaker (from Salvador-Bahia), living in New Orleans since March 2020. Developing research in the fields of photography, documentary, experimental cinema, contemporary art, media-activism, politics, and black cinema. She seeks, with her photographs, to connect with the essence of the places she traverses. Passionate about Carnival and conversing with the elderly. Directed "Black Archive – The Rising of Memory", about the work of photographer Lázaro Roberto, one of the pioneers of documentary photography in Bahia.