Call for May 29 Caravan in Miami….Appeal for solidarity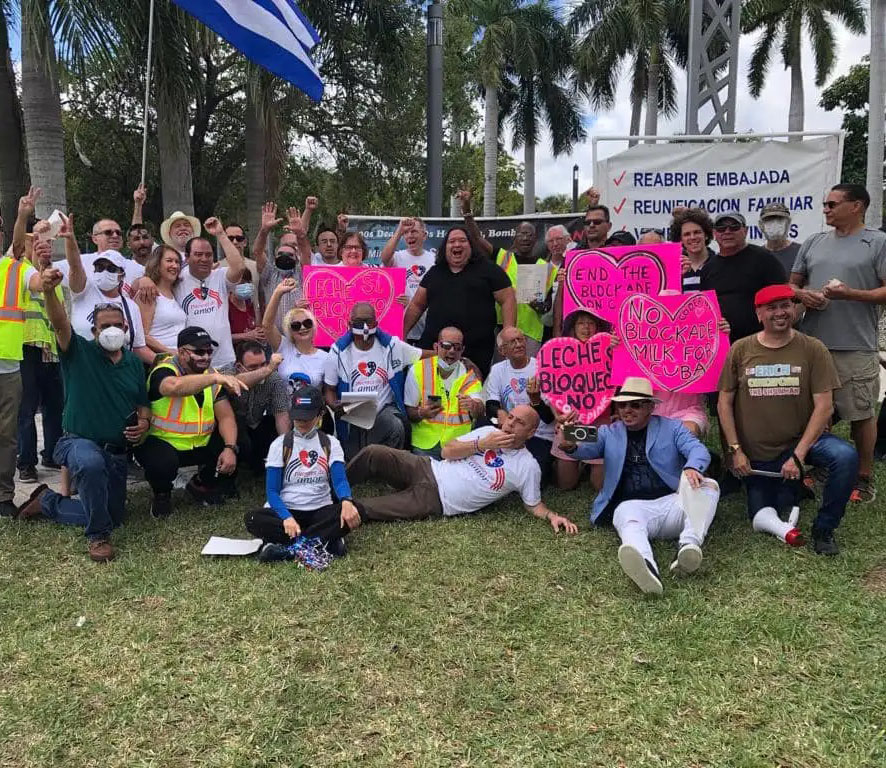 Dear Brothers and Sisters:
As the Biden Administration enters its 17th month, it has steadfastly refused to end the U.S. blockade of Cuba and end the 243 tightened sanctions imposed by Trump.
For 23 months now, the Miami Caravan Against the U.S. blockade has mobilized Cubans and non-Cubans alike, to build bridges of love between the people of Cuba and the United States. We organize to unite in action the growing numbers who oppose the blockade's burden on the Cuban family and those who support Cuba's right to self-determination regardless of differing political positions.
Rightist forces doing the work of Washington have constantly tried to provoke and intimidate our peaceful actions. But now their threats are escalating. A prominent YouTube personality is calling for a march by thousands of Cubans against "communism" to coincide with our event.
By bringing out the tired and discredited weapon of redbaiting, this rightist is signifying both his fear of our potential to grow and his inability to debate us on the objective issue of the blockade, the economic war that weighs so heavily on the Cuban people and is the main reason which unites us in action.
And just at this dangerous moment, when unity should be our watchword, a handful of sectarians are attempting to split our movement by calling for what they say is a "revolutionary" counter-caravan, on a separate date. These attempts to intimidate us, to misrepresent us, and to divide us will fail again. We shall overcome!
We believe that our steadfast work to fight to lift the blockade and build bridges Cuba/USA is bringing positive change to Miami. Our work has helped to inspire a growing and monthly synchronization of actions against the blockade in the USA and around the world.
In view of the circumstances explained above, we humbly ask our sisters and brothers throughout North America for your support on the weekend of the May 29 caravans.
We do not wish in any way to disrupt the local organizing that takes place on the last Sunday of every month. But we do ask that every area where work is being done against the blockade discuss the possibility of sending representatives to express their solidarity and support to the Miami Caravan Against the Blockade. Join us here in Miami for what will be an exciting weekend of events beginning on the evening of Saturday, May 28.
The Miami Caravan Against the U.S. Blockade of Cuba/Puentes de Amor
Carlos Lazo, Puentes de Amor
---
¡ALERTA! ¡Domingo 29 de mayo del 2022!
La Caravana de Miami Contra el Bloqueo de EE.UU. a Cuba, llama a los simpatizantes a unirse a nosotros en Miami
Queridos hermanos y hermanas:
A medida que la Administración Biden entra en su mes 17, se ha negado rotundamente a poner fin al bloqueo de Estados Unidos a Cuba y a poner fin a las 243 sanciones más estrictas impuestas por Trump.
Desde hace 23 meses, la Caravana de Miami contra el bloqueo estadounidense moviliza a cubanos y no cubanos, para construir puentes de amor entre los pueblos de Cuba y Estados Unidos. Nos organizamos para unir en acción a los cada vez más numerosos que se oponen al peso del bloqueo sobre la familia cubana y a los que apoyan el derecho de Cuba a la autodeterminación independientemente de sus diferentes posiciones políticas.
Las fuerzas derechistas que hacen el trabajo de Washington han tratado constantemente de provocar e intimidar nuestras acciones pacíficas. Pero ahora sus amenazas están aumentando. Una destacada personalidad de YouTube convoca a una marcha de miles de cubanos contra el "comunismo" para coincidir con nuestro evento.
Al sacar a relucir el arma cansada y desacreditada del acosamiento de comunistas, este derechista está dando a entender tanto su miedo a nuestro potencial de crecimiento como su incapacidad para debatirnos sobre el tema objetivo del bloqueo, la guerra económica que pesa tanto sobre el pueblo cubano y es la principal razón que nos une en acción.
Y justo en este peligroso momento, cuando la unidad debería ser nuestra consigna, un puñado de sectarios intenta dividir nuestro movimiento llamando a lo que dicen es una contracaravana "revolucionaria", en una fecha diferente. Estos intentos de intimidarnos, tergiversarnos y dividirnos fracasarán nuevamente. ¡Venceremos!
Creemos que nuestro trabajo inquebrantable en la lucha por el levantamiento del bloqueo y la construcción de puentes entre Cuba y EE. UU. está trayendo un cambio positivo a Miami. Nuestro trabajo ha ayudado a inspirar una creciente y mensual sincronización de acciones contra el bloqueo en USA y alrededor del mundo.
En vista de las circunstancias explicadas anteriormente, pedimos humildemente a nuestros hermanos y hermanas de toda América del Norte su apoyo en el fin de semana de las caravanas del 29 de mayo.
No deseamos de ninguna manera perturbar la organización local que tiene lugar el último domingo de cada mes. Pero sí pedimos que en todas las áreas donde se está trabajando contra el bloqueo se discuta la posibilidad de enviar representantes para expresar su solidaridad y apoyo a la Caravana de Miami Contra el Bloqueo. Únase a nosotros aquí en Miami para lo que será un emocionante fin de semana de eventos que comenzará la noche del sábado 28 de mayo.
La caravana de Miami contra el bloqueo de EE.UU. a Cuba/Puentes de Amor
Carlos Lazo, Puentes de amor