March 11 & 12, 2023: International US-Cuba Normalization Conference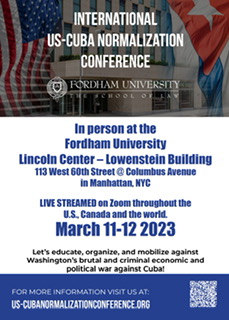 SATURDAY, MARCH 11TH – SUNDAY, MARCH 12TH

In person at the
Fordham University
Lincoln Center – Lowenstein Building
113 West 60th Street @ Columbus Avenue
in Manhattan, NYC

LIVE STREAMED on Zoom throughout the
U.S., Canada and the world
A month ago the Cuba solidarity movement organized a successful Week of Action against the US blockade of Cuba to coincide with the November 3rd UN General Assembly 185-2 vote to condemn the blockade.
Now we, the International US-Cuba Normalization Conference Coalition, are issuing this Call for a broad, united, inclusive, and non-sectarian gathering— in-person and hybrid with extensive live-streaming — in March 2023.
The International Cuba Conference will take place during the United Nations Commission on the Status of Women (formerly International Women's Month) — CSW67 — activities. This UN-sponsored annual event will include a delegation of Cuban representatives and leaders, organized by the Federation of Cuban Women (FMC), who will be able to participate in the International Conference.
We call on the broad opposition to the US economic sanctions and political bellicosity against Cuba, deepened under the Trump and Biden Administrations, to endorse this Call in a spirit of unity and struggle around the following demands:
Take Cuba off Washington's List of State-Sponsors of Terrorism!
End the US Blockade of Cuba!
End All US Anti-Cuba Economic and Travel Sanctions!
Our purpose will be to educate, organize, and mobilize against Washington's brutal and criminal economic and political war against Cuba: to boost local anti-blockade coalitions; to organize solidarity aid and travel to Cuba; to expand and increase participation in monthly Caravans against the blockade inspired by Puentes de Amor; and to organize for the passage of more Resolutions against the blockade adding to the growing list of legislative, labor, and other institutional bodies going on record against US anti-Cuba sanctions and for US-Cuba normalization.
This work, and future projected actions to fight the criminal US blockade, will be registered in the plenaries, workshops, and public activities for the Conference weekend.
Open working committees are being established to plan and organize every aspect of the International Conference including program, media and social media, outreach, publicity, and finances. The New York-New Jersey Cuba Si Coalition will take responsibility for logistics, security, and other on-the-ground issues in collaboration with the Conference Organizing Committee. We will be open, transparent, and democratic in this united effort to gather our forces in New York City and online worldwide to boost our efforts to defeat the criminal US anti-Cuba blockade.
We urge your organization to endorse this International Cuba Conference. Moreover, we urge your organization to directly participate in the weekend gathering as we step up united action against the US anti-Cuba blockade. Please distribute this Call to your members and list serves.
We invite you to send a representative(s) to the next main planning meeting which will be via Zoom on Sunday January 8th at 7pm Eastern
Join Zoom Meeting:
https://us06web.zoom.us/j/88155405642
Endorsements should be sent to
endorse@us-cubanormalizationconference.org
END THE BLOCKADE AGAINST CUBA!
LET CUBA LIVE!
Endorsers for the International US-Cuba Normalization Conference:
Organization
A Legacy of Equality Leadership and Organizing
Albany Cuba Solidarity
Alianza Martiana Coalition and Paz Amor
American Student Union (ASU)
ANSWER Coalition
Bay Area Saving Cuba Solidarity Network
Building Relations with Cuban Labor
Canadian-Cuban Friendship Association (CCFA) of Niagara
Canadian Network on Cuba
Caravane d'amitié Québec-Cuba
Casa de las Americas
Casa Baltimore Limay
CEMOTAP
Chicago ALBA Solidarity
Chicago Anti-War Coalition
Chicago Cuba Coalition
Coalition for Prisoners' Rights – Santa Fe, NM
Code Pink
Communist Party USA (CPUSA)
Cuba and Venezuela Solidarity Committee
Cuba in Africa Project
Cuba Inside Out
Cubamistad
DC Metro Coalition in Solidarity with the Cuban Revolution
Democratic Socialists of America International Committee
Fire This Time Movement for Social Justice (Canada)
Friends of Cuba Against the US Blockade – Vancouver
Friends of Latin America
Gallatin Valley Friends of Cuba
Global Exchange
Global Health Partners
Guillermo Morales-Assata Shakur Community & Student Center
Human Agenda in San Jose
IFCO/Pastors for Peace
International Action Center
International Campaign To Free Kamau Sadiki NOW
International Womens Alliance
July26.org, the Boston-Cuba Solidarity Coalition
Let Cuba Live – Maine
LGBT+ Commission of the Party of Communists USA
Los Angeles Hands off Cuba Committee
Lowcountry Action Committee of Charleston, SC
Malcolm X Commemoration Committee NYC
Mass Peace Action Subcommittee on Cuba
MCSC Friends of Cuba, Cali – Colombia
National Lawyers Guild, Cuba Subcommittee,
National Lawyers Guild, New York City chapter
New York City Democratic Socialists of America
New York/New Jersey Cuba Si
Nicaragua Solidarity Coalition
NY Black Panther Party Commemoration Committee
Palestinian Youth Movement – NYC
People's School for Marxist-Leninist Studies
Pittsburgh-Matanzas Sister Cities Partnership
Portland End the Blockade of Cuba Committee
RESPECT (Responsible Ethical Cuba Travel)
Richmond Ca. -Regla Cuba Friendship Committee
Safiya Bukhari-Albert Nuh Washington Foundation
Seattle Cuba Friendship Committee
Socialist Action
Socialist Workers Party
Solidarity Committee of the Americas – Minnesota
Southsiders for Peace – Chicago
Table de Concertation de Solidarité Québec-Cuba
Toronto Forum on Cuba
United Church of Christ Cuba Study Seminar
United National Antiwar Coalition – UNAC
Universal Zulu Nation
US Friends of the Soviet People (USFSP)
US Women and Cuba Collaboration
Vancouver Communities in Solidarity with Cuba
Venceremos Brigade
Virginia Defenders for Freedom, Justice & Equality
Wisconsin Coalition to Normalize Relations with Cuba
Witness for Peace Solidarity Collective
Women's Racial and Economic Equality (WREE USA)
Workers World Party
Individuals
Ada Bello
Amy Harlib
Arnold August
Arnold Kawano
Ben Jones
Ben Lefebvre
Bwana Payeye Kizito
Claude Marks
Claude Morin
Daniel Meyers
Elizabeth Watts
Gins Bailey
Gwen Chute
Harold Jacobs
Ina Martinez
Isabel Smidy
J. Andree Penix-Smith
Jaime Mendieta
Janice Gintzler
Jim Dildine
Joan Malerich
John Chadwick
John Philpot
Kamryn Stringfield
Karen Niles
Keith Brooks
Lynne Levine
Marcia Lyon
Margaret Gilpin
Maxine Orris MD
Mike Goodman
Nadir Romo
Otis Cunningham
Rosa Naday Garmendia
Rosemari Mealy
Timothy White
Willie Burton
Zayid Muhammad