August 3, 2023: "Escalating Lies Against Cuba"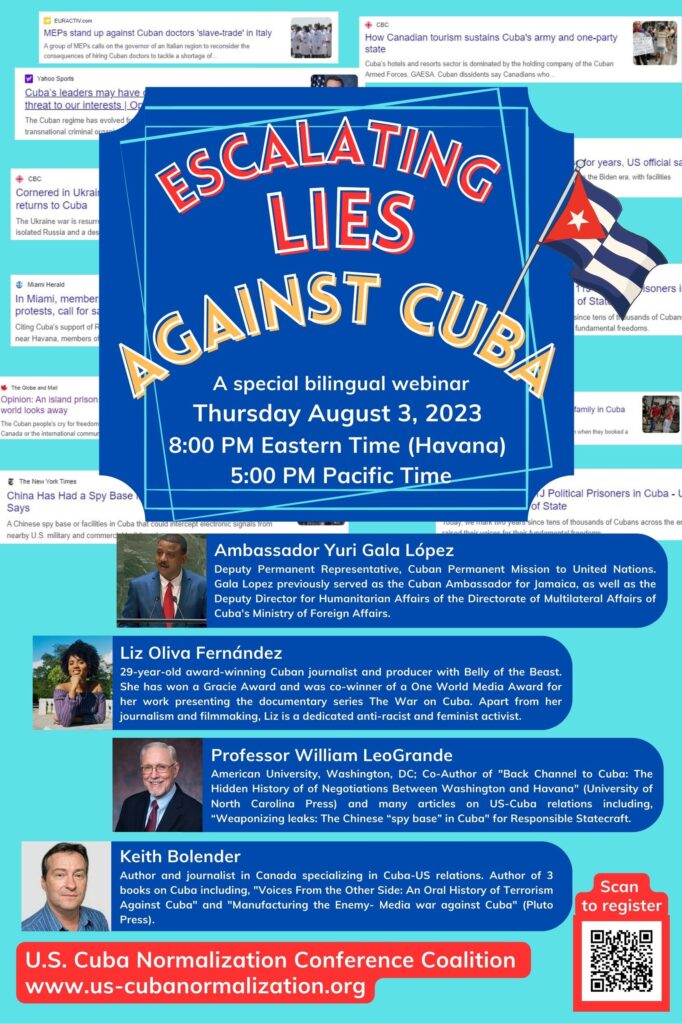 "Escalating Lies Against Cuba"
A special bilingual webinar
Thursday August 3, 2023
8:00 PM Eastern Time (Havana)
5:00 PM Pacific Time
Zoom Registration: https://us02web.zoom.us/webinar/register/WN_1pCKvCXBSgOBbkVsOI3dmA
Facebook event: https://fb.me/e/32ov4KHAb
Featuring speakers:
Ambassador Yuri Gala López
Deputy Permanent Representative, Cuban Permanent Mission to United Nations. Gala Lopez previously served as the Cuban Ambassador for Jamaica, as well as the Deputy Director for Humanitarian Affairs of the Directorate of Multilateral Affairs of Cuba's Ministry of Foreign Affairs.
Liz Oliva Fernández
29-year-old award-winning Cuban journalist and producer with Belly of the Beast. She has won a Gracie Award and was co-winner of a One World Media Award for her work presenting the documentary series The War on Cuba. Apart from her journalism and filmmaking, Liz is a dedicated anti-racist and feminist activist.
Professor William LeoGrande
American University, Washington, DC; Co-Author of "Back Channel to Cuba: The Hidden History of of Negotiations Between Washington and Havana" (University of North Carolina Press) and many articles on US-Cuba relations including, "Weaponizing leaks: The Chinese "spy base" in Cuba" for Responsible Statecraft.
Keith Bolender
Author and journalist in Canada specializing in Cuba-US relations. Author of 3 books on Cuba including, "Voices From the Other Side: An Oral History of Terrorism Against Cuba" and "Manufacturing the Enemy- Media war against Cuba" (Pluto Press).
Organized by:
U.S. Cuba Normalization Conference Coalition