Miguel Fraga,1st secretary of the Cuban Embassy in Washington, DC, speaks in Seattle!
The Seattle/Cuba Friendship Committee is proud to announce that Miguel Fraga, the 1st secretary of the newly re-established Embassy of the Republic of Cuba in Washington, DC, will be visiting Seattle from Wednesday, March 2nd, until Sunday, March 6th, 2016.
Event Schedule:
Thursday March 3: Secretary Fraga will speak at Pinchot University about business opportunities in Cuba:
http://pinchot.edu/connect/events/business-in-cuba-with-special-guest-miguel-fraga-first-secretary-of-the-embassy-to-cuba/
Friday March 4: he will speak at the formal opening of the Cuban 5 Return Photo Exhibit at El Centro de la Raza:
http://www.seattlecuba.org/index.php/30-cuban-5-return-photo-exhibit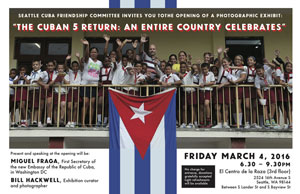 Saturday March 5: keynote speaker at Imagine! New Paths for US-Cuba Relations conference at Seattle University Law School ;
http://www.seattlecuba.org/index.php/31-imagining-new-paths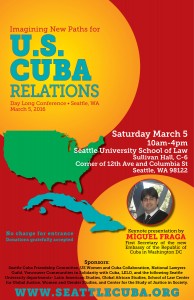 Sunday March 6: he will speak at New Hope Missionary Baptist Church, 124 21st Ave in Seattle on themes including organic agriculture in Cuba, the Church in Cuba, and race in Cuba, 12:00-1:00 (Church service begins 10:45).
Press Release: http://www.seattlecuba.org/index.php/28-miguel-fraga-press-release
Sponsored by Seattle/Cuba Friendship Committee, US Women and Cuba Collaboration, National Lawyers Guild, Vancouver Communities in Solidarity with Cuba, LELO, and the following Seattle University departments: Latin American Studies, Global African Studies, School of Law Center for Global Justice, Women and Gender Studies, and Center for the Study of Justice in Society.
For more information, please contact John Waller, Secretary of the Seattle/Cuba Friendship Committee:
seattlecuba@gmail.com
http://www.seattlecuba.org