U.S. Hands Off Cuba! Cuba Solidarity Activists Continue Organizing Protests Against Blockade of Cuba
By Janine Solanki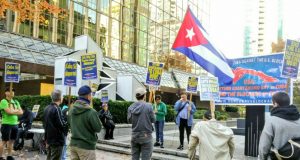 During his speech at the recent 73rd Session of the United Nations General Assembly, Cuban President Miguel Díaz-Canel Bermúdez said: "It [the U.S. blockade] has been and continues to be a major obstacle to the country's development and the realization of the aspirations to progress and well-being of several generations of Cubans." These sentiments are echoed by supporters around the world against the cruel and immoral U.S. blockade on Cuba!
On October 17th, 2018, Friends of Cuba Against the Blockade (FCAB) in Vancouver held their monthly action in front of the U.S. Consulate, holding picket signs and chanting "Lift the Blockade on Cuba Now!" and "U.S. – Return Guantanamo to Cuba Now!" This monthly action was joined by coordinated actions in Montreal and Ottawa, Canada, and Kiev, Ukraine.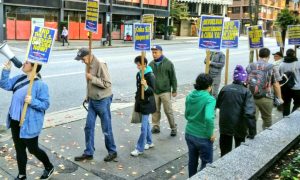 In between rounds of picketing, protesters heard from local speakers who highlighted the need to increase public pressure against the blockade, as the UN 27th annual vote on a resolution against the U.S. blockade on Cuba was scheduled for October 31. The vote resulted in a victory for Cuba with only the U.S. and Israel voting against Cuba and 189 countries in favour of the resolution!
Protesters also participated in the Twitter Storm for Cuba "The World United Against the Blockade" and tweeted photos around the world with the hashtags #NoMasBloqueo and #UnblockCuba!
To join the next picket against the U.S. blockade on Cuba, visit www.vancubavsblockade.org or follow on Facebook and Twitter @nobloqueovan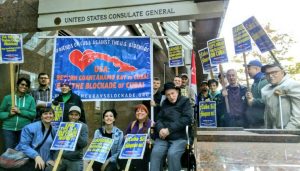 Follow Janine on twitter: @janinesolanki
Reprinted from Fire This Time Newspaper: firethistime.net