Lift The U.S. Blockade on Cuba Now!
MONTHLY PICKET ACTIONS TO END THE U.S. BLOCKADE ON CUBA!
VANCOUVER, MONTREAL & OTTAWA, CANADA & KIEV, UKRAINE
Lift the U.S. Blockade on Cuba Now!
U.S. Return Guantanamo to Cuba Now!
"The U.S. has no moral authority to talk about human rights. Its position is hypocritical, dishonest and with a double standard. Does anyone know of a longer, crueler and bigger violation of human rights than the U.S. economic, commercial and financial blockade against Cuba?"
Those were the words of the Cuban President Miguel Díaz-Canel Bermúdez in response to the latest attack on Cuba where U.S. Secretary of State Pompeo issued a public letter to Cuban Foreign Minister Bruno Rodriguez criticizing Cuba on human rights. That same week, on December 10, the Trump administration announced another hostile move against Cuba, the permanent closing of its Citizenship and Immigration Service office in Havana.
As the United States government continues its unjust blockade and aggression against Cuba, people around the world will continue standing with the people of Cuba in defending their sovereignty and demanding the end of the criminal U.S. blockade. Vancouver activists together with friends of Cuba in Ottawa and Montreal, Canada, and Kiev, Ukraine will unite our voices to demand an end to all U.S. hostilities and aggressive policies against Cuba.
> TRUMP HANDS OFF CUBA!
> END THE U.S. BLOCKADE ON CUBA NOW!
> RETURN GUANTANAMO TO CUBA NOW!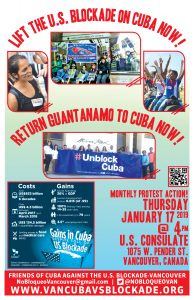 This event will be taking place on the traditional and unceded territories of the Tsleil-Waututh (səl̓ilwətaɁɬ), the Musqueam (xʷməθkʷəy̓əm), and the Squamish (Skwxwú7mesh) Coast Salish Nations.
Organized in Vancouver by:
FRIENDS OF CUBA AGAINST THE U.S. BLOCKADE (FCAB-VANCOUVER)
(Member of the Canadian Network on Cuba-CNC)
Web: http://vancubavsblockade.org/
Email: NoBloqueoVancouver@gmail.com
Phone: 778-707-8027
Twitter: @NoBloqueoVan
Facebook: https://www.facebook.com/NoBloqueoVan
Endorsed by:
VANCOUVER COMMUNITIES IN SOLIDARITY WITH CUBA (VCSC)
(Member of the Canadian Network on Cuba-CNC)