The World Stands with Cuba – From the United Nations to United Actions!
By Janine Solanki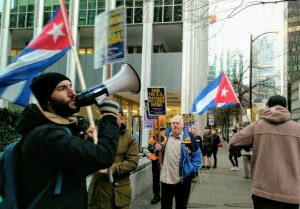 On October 31, United States Ambassador to the United Nations Nikki Haley tweeted about the upcoming 27th annual United Nations General Assembly (UNGA) resolution against the U.S. blockade on Cuba, saying that "countries will have to vote between Cuba or the US. Who will vote with us?" Haley got a resounding response on November 1st when 189 countries voted with Cuba, against the U.S. blockade. Only Israel joined the U.S. in their shameful and isolated vote against the resolution. The UNGA gave Nikki Haley and the U.S. government a loud and clear answer – "¡Cuba Si! ¡Bloqueo No!"
From the halls of the United Nations, to grassroots protests on the streets, justice loving people are standing in solidarity with Cuba against this criminal U.S. blockade. On November 17, 2018, Cuba solidarity activists joined in protest in Vancouver, Ottawa and Montreal, Canada and Kiev, Ukraine!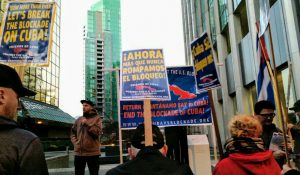 In Vancouver, Friends of Cuba Against the U.S. Blockade (FCAB-Vancouver) picketed in front of the U.S.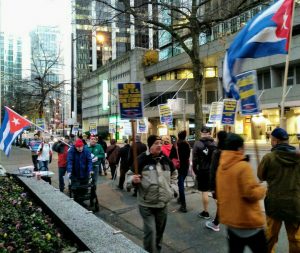 Consulate, raising voices and picket signs high to demand "Lift the Blockade on Cuba Now!" and "Return Guantanamo to Cuba Now!" In between rounds of picketing, supporters of the Cuba solidarity campaign heard from local speakers and organizers. Participants were reminded that this Vancouver action is made stronger indeed by its coordination with other Cuba solidarity activists in Ottawa, Montreal and Kiev, Ukraine who were also out in front of their U.S. embassies and consulates on this day!
The action on the streets wrapped up but continued online where the world could see photos from the action on Twitter! Friends of Cuba Against the Blockade also participated in a special Twitter Storm "Fidel and Solidarity Among the Peoples" on November 16, paying homage to Fidel Castro, the historic leader of the Cuban Revolution leading up to the second anniversary of his passing.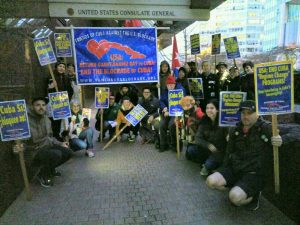 Join Friends of Cuba Against the U.S. Blockade next month! For more info and actions visit www.vancubavsblockade.org or follow on Facebook and Twitter @NoBloqueoVan
Follow Janine on Twitter: @janinesolanki