Lift the U.S. Blockade on Cuba! No Helms-Burton Act! Stop "Title III"! Canada Reopen the Visa Office in Havana!
MONTHLY PICKET ACTIONS TO END THE U.S. BLOCKADE ON CUBA!
VANCOUVER, MONTREAL & OTTAWA, CANADA & KIEV, UKRAINE
LIFT THE U.S. BLOCKADE ON CUBA NOW! 
U.S. RETURN GUANTANAMO TO CUBA NOW!
NO HELMS-BURTON ACT! STOP "TITLE III"! 
CANADA REOPEN THE VISA OFFICE IN HAVANA!
Join the social media campaign in Facebook, Twitter & Instagram!
Use the hashtags #CdnVisasforCuba #UnBlockCuba #NoMasBloqueo
View the campaign poster: http://vancubasolidarity.com/thumbs/CNCVisaCampaign.jpg
*** VANCOUVER PICKET ACTION ***
Tuesday September 17
4-5pm
U.S. Consulate
1075 W. Pender, Downtown Vancouver, Canada
>> Monthly picket actions organized in Vancouver, Montréal and Ottawa, Canada & Kiev, Ukraine
Since 1961, the United States economic blockade on Cuba has caused damages calculated at over 134 billion dollars by 2018 – almost 2.5 billion a year for a small island nation of less than 12 million people!
Under President Trump, the US has also newly sanctioned more than 100 Cuban companies and imposed stricter travel restrictions on its citizens which will cut the number of who visit Cuba in half. A June 23 Washington Post article quoted a Trump administration official, who spoke on the condition of anonymity, "We are serious. These are times for maximum pressure, and that is what has informed our thinking."
Unfortunately, the Canadian government has recently taken its own hostile and unnecessary actions against Cuba. On May 8 they made the abrupt decision to shut down the section of its Immigration, Refugees and Citizenship (IRCC) Office in Havana, through which visas were processed for Cuban citizens wishing to visit Canada. This has divided families, and caused massive delays, uncertainty, and significant financial obstacles for Cubans trying to visit Canada for completely legal business, cultural, scientific and sporting relations.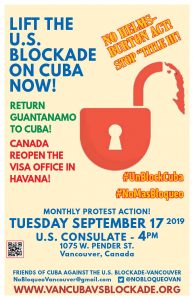 Join Friends of Cuba Against the US Blockade for our monthly picket action as we continue to stand up against U.S aggression and in defense of Cuba's sovereignty and self-determination.
This event will be taking place on the traditional and unceded territories of the Tsleil-Waututh (səl̓ilwətaɁɬ), the Musqueam (xʷməθkʷəy̓əm), and the Squamish (Skwxwú7mesh) Coast Salish Nations.
Organized by:
FRIENDS OF CUBA AGAINST THE U.S. BLOCKADE (FCAB-VANCOUVER)
(Member of the Canadian Network on Cuba-CNC)
Web: http://vancubavsblockade.org/
Email: NoBloqueoVancouver@gmail.com
Phone: 778-707-8027
Twitter: @NoBloqueoVan
Facebook: https://www.facebook.com/NoBloqueoVan
Endorsed by: VANCOUVER COMMUNITIES IN SOLIDARITY WITH CUBA (VCSC)
Web: http://www.vancubasolidarity.com/