July 26: Live music, poetry, stories, & BBQ for Cuba's Moncada Day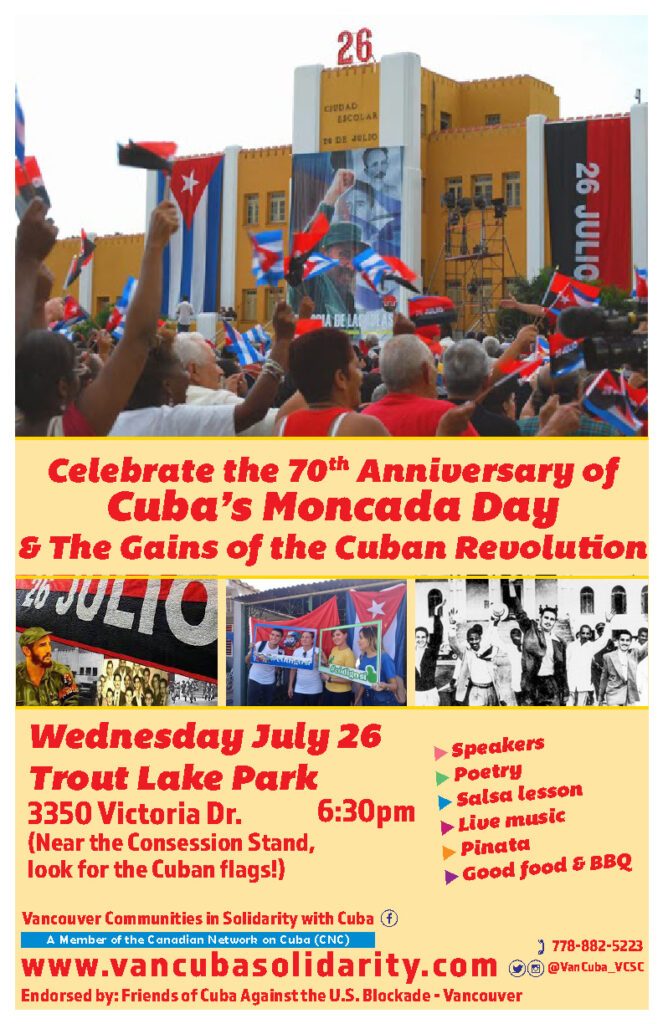 Celebrate the 70th Anniversary of Cuba's Moncada Day & The Gains of the Cuban Revolution
*A Free Community Event *
Join us for an evening of speakers, live music, poetry, stories, BBQ, and a piñata!
WEDNESDAY JULY 26, 2023
TROUT LAKE PARK – 6:30pm
3350 Victoria Drive
Near the Concession Stand – Look for the Cuban Flags!
Vancouver, Canada
Organized by:
Vancouver Communities in Solidarity with Cuba(VCSC)
A Membr of the Canadian Network on Cuba (CNC)
Endorsed by:
Friends of Cuba Against The U.S. Blockade (FCAB)-Vancouver
Rain or Shine!
Bring a dish to share for the potluck, or just come and enjoy!
Featuring:
KELLY WHITE – Coast Salish Facilitator, Elder, and Knowledge Keeper will bring us together with her powerful drum music
MARIA MELENDEZ – Multitalented Salvadorean musician performing Latin-American classics on her guitar
LUCY ORTIZ & ALEJANDRO MUJICA-OLEA – Moving and dynamic poetry from 2 organizers with Proyecto Cultural Sur – Vancouver
SALSA DANCE LESSON – A chance to practice your moves with VCSC organizer, Janine Solanki
On July 26th, 2023, Cubans and friends of Cuba around the world will celebrate 70 years since Cuba's Moncada Day. When, in 1953, a 26-year-old revolutionary leader named Fidel Castro led a group of young Cubans in an attack against the Moncada Army Barracks in Santiago de Cuba. This was their initial strike against the U.S.-backed Cuban dictator Fulgencio Batista to initiate the Cuban revolution. July 26th has become an important annual celebration in Cuba and around the world as we take stock of the gains of the Cuban revolution. Join Vancouver Communities in Solidarity with Cuba as we come together to share great food, speeches, poetry, and music in Trout Lake Park!
Join the event on Facebook: https://www.facebook.com/events/981963099687026
Check out the event poster: https://vancubasolidarity.com/thumbs/230726-Moncada-Day.jpg
---
Celebran el 70 Aniversario del Día del Moncada en Cuba
& Los logros de la revolución cubana
Un evento comunitario gratuito
¡Únase a nosotros para una noche de oradores, música en vivo, poesía, cuentos, barbacoa y una piñata!
MIÉRCOLES 26 DE JULIO 2023
TROUT LAKE PARK – 6:30 p. m.
3350 Victoria Drive
Cerca del puesto de comida – ¡Busque las banderas cubanas!
Vancouver, Canadá
Organizado por:
Vancouver Communities in Solidarity with Cuba
A Member of the Canadian Network on Cuba (CNC)
Aprobado por:
Friends of Cuba Against The U.S. Blockade (FCAB)-Vancouver
¡Si Llueva o haga sol!
¡Traiga un plato para compartir para la comida compartida, o simplemente venga y disfrute!
Presentando:
KELLY WHITE – Facilitador, anciano y depositario del conocimiento de los pueblos Indígenas "Coast Salish" nos reunirá con su poderosa música de batería
MARIA MELENDEZ – Música salvadoreña multitalentosa interpretando clásicos latinoamericanos en su guitarra
LUCY ORTIZ & ALEJANDRO MUJICA-OLEA – Poesía conmovedora y dinámica de 2 organizadores con Proyecto Cultural Sur – Vancouver
LECCIÓN DE BAILE DE SALSA – una oportunidad de practicar tus movimientos con la organizadora de VCSC, Janine Solanki
El 26 de julio de 2023, cubanos y amigos de Cuba en todo el mundo celebrarán los 70 años del Día de Moncada en Cuba. Cuando, en 1953, un líder revolucionario de 26 años llamado Fidel Castro lideró un grupo de jóvenes cubanos en un ataque contra el Cuartel del Ejército Moncada en Santiago de Cuba. Este fue su ataque inicial contra el dictador de Cuba respaldado por Estados Unidos, Fulgencio Batista, para iniciar la revolución cubana. El 26 de julio se ha convertido en una importante celebración anual en Cuba y en todo el mundo a medida que hacemos un balance de los logros de la revolución cubana. ¡Únase a las Comunidades de Vancouver en Solidaridad con Cuba (VCSC) mientras nos reunimos para compartir excelente comida, discursos, poesía y música en Trout Lake Park!
Únase al evento en Facebook: https://www.facebook.com/events/981963099687026
Mira el cartel del evento: https://vancubasolidarity.com/thumbs/230726-Moncada-Day.jpg