Hey Trump Lift the Blockade on Cuba! NOW!
"Hey Trump Lift the Blockade on Cuba! NOW! Return Guantanamo to Cuba NOW!"
Those were the chants heard by people as they walked by the United States Consulate in downtown Vancouver on July 17 where Friends of Cuba Against the Blockade- Vancouver (FCAB-Vancouver) held its monthly picket action. Protesters held signs and banners demanding the end of the U.S. blockade on Cuba and heard from local speakers as well as a solidarity greeting via phone from Ottawa Cuba Connections, which have held earlier that day their protest against the blockade in front of the U.S. embassy in Ottawa.
In addition to Ottawa, every 17th of the month, supporters of Cuba in Montreal and Kiev, Ukraine have also joined FCAB-Vancouver in taking the streets in solidarity with the Cuban people as they continue facing the over 56 years old unjust U.S. blockade against their country. The consequences of this blockade affect the daily life of the Cuban people. An example is the damages caused to the Cuban public health system, one of the sectors the most affected by the U.S. blockade, the monetary damage is estimated at more than 87 million dollars only in the period from April 1, 2016 to March 31, 2017.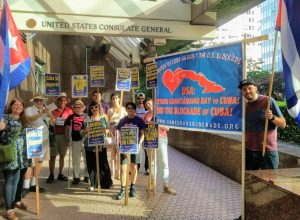 In addition to the blockade being in full force, the United States government continues its illegal occupation of the territory of Guantánamo Bay, Cuba and its so called "democracy programs" and subversives activities against the Cuban government.
Despite all these severe challenges, Cuba has made extraordinary gains in education and healthcare. Today, Cuba is world renowned for its healthcare system, which has achieved a lower infant mortality rate than many first world countries, including the United States and Canada.
Supporters of Cuba around the world continue to stands with the cuban people to defend their right to self determination and their right to live freely without the hostile and aggressive U.S. policies towards their country. On August 17, activists in Vancouver, Ottawa and Montreal, Canada and Kiev, Ukraine, will unite their voices once again to demand an end to the U.S. blockade on Cuba.