July 17, 2021: Virtual Picket to Lift The U.S. Blockade on Cuba!
>> LIFT THE U.S. BLOCKADE ON CUBA!
>> U.S. REMOVE CUBA FROM THE SO-CALLED "STATE SPONSORS OF TERRORISM" LIST!
>> AWARD CUBA'S INTERNATIONAL MEDICAL BRIGADE THE NOBEL PRIZE!
Saturday, July 17, 2021
7pm Eastern / 4pm Pacific / 6pm Central / 8pm Atlantic

#Cubavsbloqueo#UnBlockCuba#SanctionsKill
#Nobel4CubanDoctors#NobelCuba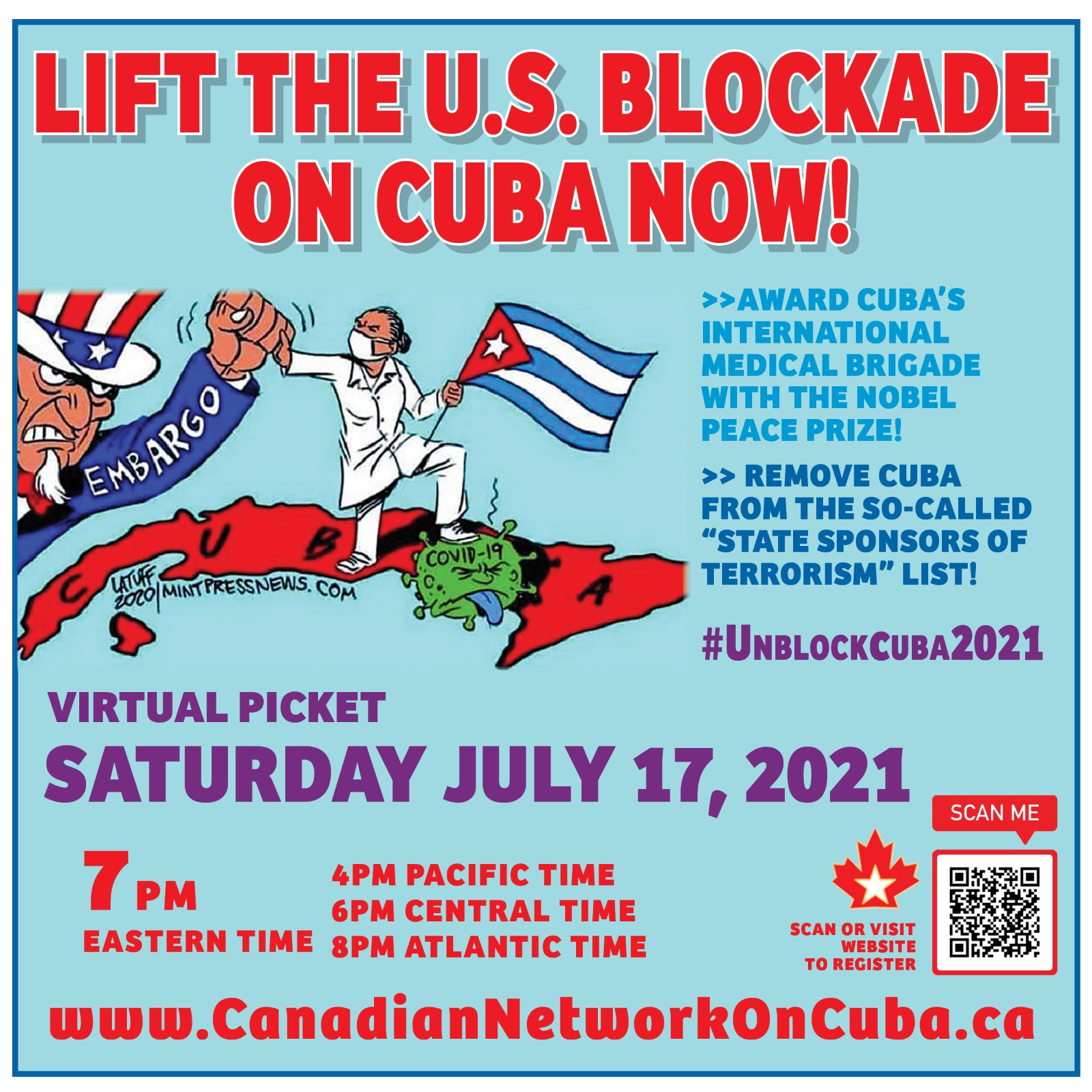 >> Featuring Speakers & Greetings from Across Canada and Around the World <<
* DEFODJI JAURES SOTINKON – Communication officer for the Friends of Venezuela Association in Benin. He is also a Freelance journalist and Web editor.
* PETE SEIDMAN – Long-time activist and member of US Hands Off Cuba and Venezuela South Florida Coalition
* HILARY CASEY & NINA GONZALEZ – Joining from the Cuba Support Group Ireland (CGSI) to talk about their campaign #WalkingforCuba and how you can get involved!
* GUSTAVO ROJAS – University professor and founding member of the Colombian Movement in Solidarity with Cuba (MCSC)
PLUS VIDEOS FROM: The Bridges of Love walk from Miami to Washington DC, Association of Solidarity Congo-Cuba-Venezuela, la Table de concertation et de solidarité Québec– Cuba, the Ukrainian Committee "Stop the blockade of Cuba", Ottawa Cuba Connections & more!
Along with Greetings from CNC member groups!
Event Co-Chairs:
* TAMARA HANSEN – Executive member of the Canadian Network on Cuba, Coordinator of Vancouver Communities in Solidarity with Cuba (VCSC) & Author of "5 Decades of the Cuban Revolution: The Challenges of an Unwavering Leadership."
* JULIO FONSECA – Executive member of the Canadian Network on Cuba, President of the Juan Gualberto Gomez Association of Cuban Residents in Toronto.
*** Everyone is encouraged to make protest signs, display banners, or wear t-shirts against the blockade. These can be displayed in a group photo at the end of the virtual picket!
1) The program will begin with invited speakers and greetings.
2) In concluding the virtual picket, those who wish to participate in the photo will be invited by the co-chairs to turn on their cameras to join in! More specific instructions will be given by co-chairs during the virtual picket.
3)If you are unfamiliar with Zoom or require technical support, please contact: webmaster@canadiannetworkoncuba.ca
*** Everyone is also encouraged to share photos with their signs, t-shirts and banners on social media #Cubavsbloqueo #UnBlockCuba2021 #SanctionsKill
On June 23, 2021 the United Nations General Assembly once again condemned the cruel U.S. blockade on Cuba. A total of 184 countries voted in favour of Cuba's resolution demanding an end of the U.S. economic blockade, only 2 countries (the U.S. and Israel) voted against the resolution. For the 29th consecutive vote, the world stood with Cuba! Once again the U.S. and its unjust policy of blockade was absolutely isolated.
As well, we are protesting the U.S. meddling in Cuba's internal affairs in light of recent provocations and incidents in Cuba. Here is CNC
statement: http://canadiannetworkoncuba.ca/index.php/news-and-events/63-cnc-news/916-hands-off-cuba-no-to-the-us-war-on-cuba
Join the Canadian Network on Cuba at this 15th monthly virtual picket as we continue our campaign to build pressure on the Biden administration to end the blockade on Cuba! These actions are a continuation of coordinated monthly protests against the U.S. blockade which have been taking place in Vancouver, Ottawa and Montreal, Canada and Kiev, Ukraine on the 17th of each month since 2015. We will be united from across Canada and around the world in demanding: Lift the Blockade on Cuba Now!
REGISTER ONLINE HERE:
https://zoom.us/webinar/register/WN_ZZ_td6IwQuefkt9sfyCeVw
ATTEND ON FACEBOOK:
https://fb.me/e/1vwbMRJmg
** Please circulate this information to your friends and contacts.
**Organized by the Canadian Network on Cuba (CNC), a network of Cuba solidarity organizations across Canada promoting friendship and solidarity with Cuba and the Cuban people.
http://www.canadiannetworkoncuba.ca