Gerardo Hernández Cuban 5 Hero Speaks in Vancouver!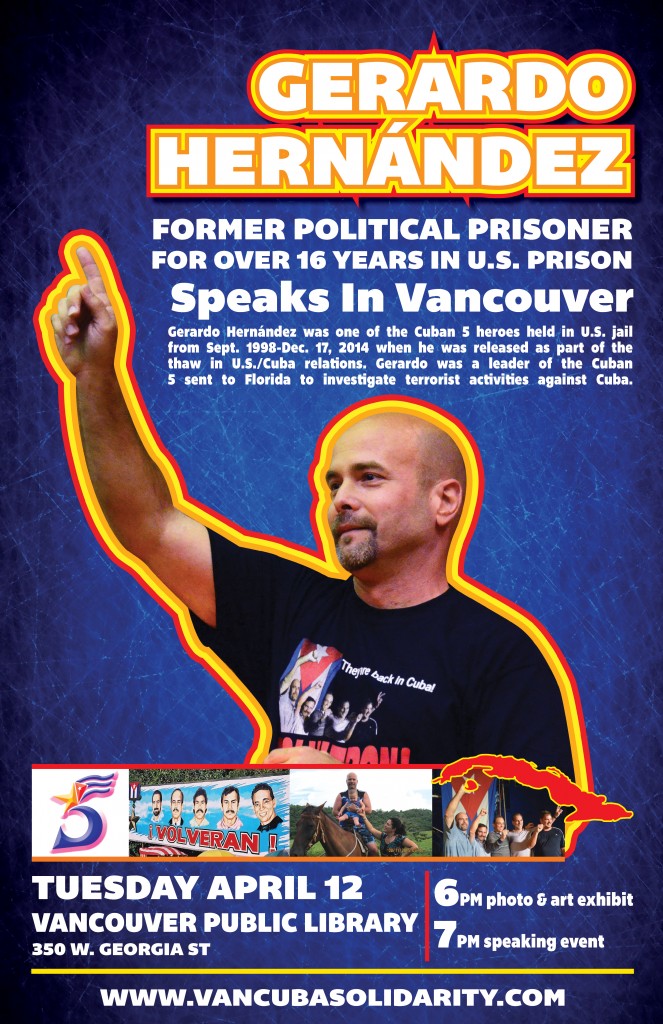 On Tuesday April 12, 2016 Vancouver Communities in Solidarity with Cuba (VCSC) and other organizations from across the city are proud to welcome Gerardo Hernández, one of the Cuban 5 formerly held in U.S. prisons to Vancouver!
Gerardo Hernández was a leader of the Cuban 5 sent to Miami, Florida to investigate terrorist activities against Cuba. In September 1998, Gerardo, Rene, Ramon, Antonio and Fernando, also known as the Cuban 5, were arrested and held for 18 months in solitary confinement in the United States. Eventually they were charged and found guilty of trumped up charges such as, conspiracy to commit espionage and conspiracy to commit murder. Gerardo was given the most severe sentence, double-life. The United States wanted Gerardo live his life and eventually die in U.S. prison.
Meanwhile in Cuba and around the world people rose up to demand the freedom of these political prisoners held in U.S. jails. Gerardo was finally released and returned to Cuba on December 17, 2014 as part of the thaw in U.S./Cuba relations. He spent over 16 years unjustly held in United States jail.
During those 16 years Gerardo was also prevented from seeing his wife, Adriana Perez, who was repeatedly denied a visa to visit the United States. Today Gerardo and the Cuban 5 are all living freely in Cuba for just over a year. He is living happily with his wife, Adriana and their baby daughter, Gema.
Join us Tuesday April 12, 2016 at the Main Branch of the Vancouver Public Library at 6pm for an exhibit of Gerardo's cartoons and other artwork dedicated to the Cuban 5. Then at 7pm Gerardo Hernández will speak, along with Javier Domokos, the Cuban Consul General of Toronto and Wilfredo Pérez, the Venezuelan Consul General of Vancouver. It will be a beautiful evening of art, poetry, solidarity and celebration as we welcome Gerardo to our city!
Event organized by Vancouver Communities in Solidarity with Cuba (VCSC)

Event Endorsers: Friends of Cuba Against the US Blockade – Vancouver (FCAB-Vancouver), Stories from the Salish Seas, Communist Party of Canada (Marxist-Leninist), Human Rights and International Solidarity Community ETEA (Federation of Post-Secondary Educators Local 21), Richmond-Centre Federal New Democratic Party (NDP), ANSWER – Seattle,Seattle/Cuba Friendship Committee, Proyecto Cultural Sur-Vancouver, US Women and Cuba Collaboration, Battle of Ideas Press, Fire This Time Movement for Social Justice-FTT, Mobilization Against War & Occupation (MAWO), Communist League, Legacy of Equality, Leadership & Organizing – LELO

Join the Facebook event here: https://www.facebook.com/events/888016654657839/

See the event poster here:
http://www.vancubasolidarity.com/posters/160412-Gerardo-Hernandez-visit.pdf