July 5, 2023: Path to Win Single Payer NOW!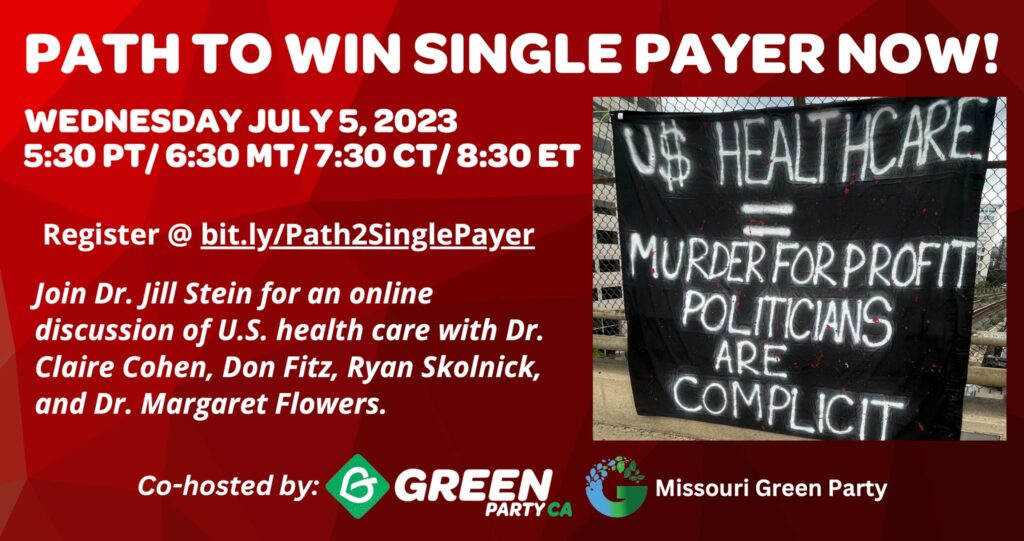 July 5 online webinar starts at:
5:30 PT / 6:30 MT / 7:30 CT / 8:30 ET
Join Dr. Jill Stein for an online discussion of U.S. health care with an esteemed panel of healthcare experts and advocate:
Dr. Claire Cohen (National Single Payer) Problems with US Healthcare
Don Fitz (Missouri Green Party) Lessons from Cuba
Ryan Skolnick (California Nurses Association) CalCare, California's State-Based Model
Dr. Margaret Flowers (Health Over Profit) National Improved Medicare For All
Dr. Jill Stein (Green Party's 2012 and 2016 Presidential candidate) Moderator
Registration is required for this free event at: http://bit.ly/Path2SinglePayer
Please contact Lauren Filla (filla.lauren@gmail.com) with any questions or if your organization would like to co-sponsor this event by June 30.
The profit-driven U.S. health care system has produced staggering healthcare inequities, patient suffering and death, declining health outcomes, and massive medical debt.
A single-payer system would cover comprehensive health care for everyone from head to toe regardless of citizenship or employment. It will be free at the point of service and cost less than the current system.
Co-Hosts: Green Party of California & Missouri Green Party
Co-Sponsors:
National Single Payer
Oregon Physicians for a National Health Program
M4M4ALL
International People's Democratic Uhuru Movement
Uhuru Solidarity Movement
GPAX, Peace and Action Committee of the Green Party
Labor Education Project On AFL-CIO International Operations, LEPAIO
Green Party of Washington
Green Party of Florida
Green Party of Pennsylvania
Green Party of Illinois
Green Party of St. Louis
Green Party of Kansas City
Real Progressives
Attack the System
Yellow Vest Action
Friends of Cuba against the US Blockade, Vancouver, Canada
Veterans for Peace, Chapter 126, TX
Green Party of Santa Clara County, CA
Green Party of Santa Barbara County, CA
San Jose Peace and Justice Center, CA
Santa Clara County Single Payer Healthcare Coalition, CA
South Bay progressive Alliance, CA
Green Liberty Caucus